Fun Facts about beets:
Long ago beets were used to cure ailments such as toothaches and headaches rather than being consumed

The compound that makes beets red is called betalin and it's actually really important in helping the body get rid of toxins.
The beet is a love vegetable. It is the belief of some cultures that eating from the same beet as someone else will cause you to fall in love.
The green tops of beets are edible and taste good sautéed.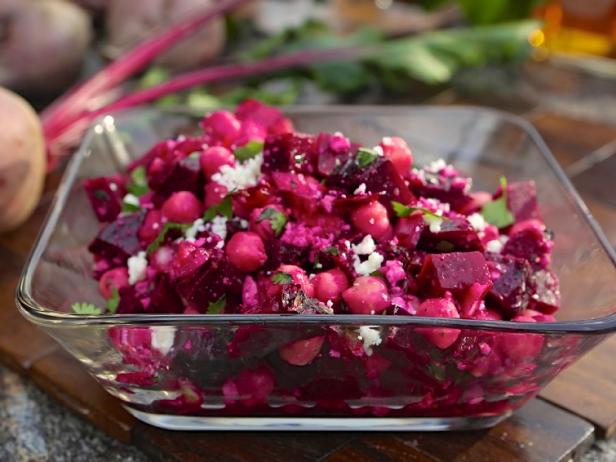 Roasted Beet Salad with Chickpeas and Red Onion
Preheat the oven to 350 degrees F.
Set the beets, garlic and rosemary on a large piece of aluminum foil. Drizzle with 1 tablespoon of the olive oil, sprinkle with some salt and pepper and add a splash of water. Fold the foil up into a pouch and seal the edges. Transfer to the oven and cook until the beets are easily pierced with a knife, 45 to 50 minutes. When done, remove the beets from the pouch and set them aside until cool enough to handle. With a paper towel rub the skins from the beets. Cut the peeled beets into bite-size cubes. Mince the roasted garlic.
Combine the beets, garlic, chickpeas, red onion, pickles and lemon juice in a bowl. Season with salt and pepper, drizzle with the remaining 2 tablespoons olive oil and toss to mix. Transfer the salad to a serving platter. Sprinkle with the cotija and cilantro and serve.

Source: http://www.foodnetwork.com/recipes/guy-fieri/roasted-beet-salad-with-chickpeas-and-red-onion-2418914